Chiropractic Care at Hanes
Chiropractic care is essential in ensuring spinal health and general body wellness. At Hanes Total Healthcare Center, we are dedicated to helping patients achieve and maintain optimal health through chiropractic care. Our chiropractors offer state-of-the-art chiropractic care to residents in and around Chillicothe.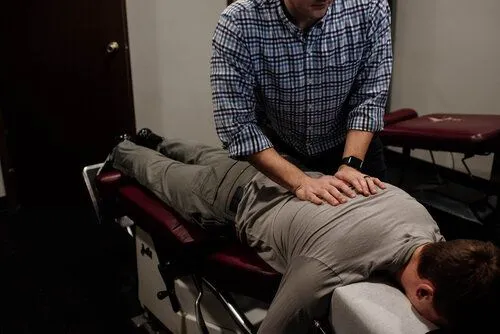 What Is Chiropractic?
Chiro- : of the hands
-practic: the way of doing something
"Chiropractic is a healthcare profession that focuses on the disorders of the musculoskeletal system and the nervous system, and the defects of these disorders in general health" -American Chiropractic Association
We use Palmer package techniques to adjust the spine and extremities. The concept is that the musculoskeletal system's proper alignmentwill allow the body to restore itself without the need for medicine or surgery. We use adjustments to restore nerve flow and mobility to joints inhibited by tissue damage caused by repeated stress, a fall, or poor posture. We provide treatment mainly for the restoration of nerve flow and relief of pain in muscles, ligaments, tendons, joints, etc.
Chiropractic Treatment
To restore proper nerve function and relieve your pain, we have to obtain your full medical history, conduct a physical examination, and utilize diagnostic imaging to deduce the most effective treatment plan for your condition. The treatment strategy may comprise one or more adjustments in which our doctors adjust the joints, using regulated, abrupt force to boost range and quality of movement.
We also integrate nutrition, exercise, physical therapy, stretch rehab, and supplementation into the treatment plan. The length of chiropractic treatment or the number of sessions will depend on the complexity of the health concern being addressed. Most patients experience an improvement from each chiropractic visit. Our objective is to restore your body to its optimal state.
Benefits of Chiropractic Care
The nervous system - the brain and the spinal cord - control every aspect of the body. When there is a misalignment of the spine or other joint, this restricts nerve flow. When nerve flow is restricted, dysfunction follows. Dysfunction of the body presents not only with pain, but also headaches, migraines, carpal tunnel syndrome, numbness, tingling, sleep disturbances, gastrointestinal dysfunctions, colic, constipation, bedwetting, latching issues in nursing infants, etc. With chiropractic adjustments, this nerve flow restored, and the body's innate intelligence can take over, allowing your body to function at its optimum level, ridding the body of these ailments.
Our chiropractic care can help patients find relief from their acute or chronic pain. Research has also demonstrated that chiropractic care is beneficial to all ages of patients- including newborns to the elderly.
The History of Chiropractic
The chiropractic profession was founded by D.D. Palmer in 1895. He went on to form what would become Palmer College of Chiropractic. The very first chiropractic adjustment was given by D.D. Palmer on September 18, 1895. This day is now celebrated as "Founder's Day".
D.D. Palmer - "The Founder"
Known as The Discoverer of Chiropractic and as The Founder of the chiropractic profession and Palmer College of Chiropractic, Daniel David (D.D.) Palmer performed the first chiropractic adjustment on Sept. 18, 1895, in Davenport, Iowa. He founded Palmer School and Cure (now Palmer College of Chiropractic) in Davenport in 1897 and died in 1913. He was posthumously named a distinguished Fellow in the Palmer Academy of Chiropractic in 2006.
B. J. Palmer - "The Developer"
Bartlett Joshua (B.J.) Palmer, D.C., the son of D.D. Palmer, is known as The Developer of Chiropractic. He became the dominant force in chiropractic after D.D.'s death in 1913 and is recognized for his work in bringing chiropractic to prominence in health care. He's also remembered for developing chiropractic X-ray techniques and pioneering research projects, his humorous and pointed epigrams about chiropractic and life, and for running the Palmer School of Chiropractic until his death in 1961. He was posthumously named a distinguished Fellow in the Palmer Academy of Chiropractic in 2006.
Mabel Heath Palmer - "The First Lady of Chiropractic"
Known as The First Lady of Chiropractic, Mabel Sarah Heath was born in Milan, Illinois, and married Dr. B.J. Palmer in 1904. After graduating from Palmer, she studied anatomy, wrote a textbook on the subject, and taught anatomy at Palmer for more than 35 years. She died in 1949. She was posthumously named a distinguished Fellow in the Palmer Academy of Chiropractic in 2006.
David D. Palmer - "The Educator"
Referred to as The Educator of Chiropractic, David D. Palmer, D.C., was the son of Drs. B.J. and Mabel Heath Palmer. Born on the Palmer campus and raised among the faculty and students, Dr. Dave, as he was called, became president of Palmer in 1961. Dr. Dave graduated from the prestigious Wharton School of Finance & Commerce at the University of Pennsylvania in 1929. While at the Wharton School he focused on business, law and economics. He went on to attain his Doctor of Chiropractic degree from Palmer in 1938.
He's recognized for changing the name of Palmer School of Chiropractic to Palmer College of Chiropractic, and for establishing Palmer's first Alumni Department, under which he developed the Palmer College of Chiropractic International Alumni Association. He's also recognized for making significant progress toward official accreditation, establishing non-profit status for the College, and for modernizing the campus. Dr. Dave was a broadcasting pioneer and served as President of Palmer Broadcasting. He died in 1978. He was posthumously named a distinguished Fellow in the Palmer Academy of Chiropractic in 2006
Contact Us for Chiropractic Adjustments and Treatment
At our office, we use a holistic approach to help patients achieve optimal wellness. Our chiropractors use various techniques. We use both instrument-based and manual adjustment techniques for chiropractic care at our clinic. At Hanes Total Healthcare Center, our chiropractors have honed their skills for years and are ready to help alleviate your pain or discomfort. Call us today or schedule an appointment online to find out how we can help you on your journey to living pain-free.